Regular price
Sale price
$2.99
Unit price
per
Sale
Sold out
➤ Inside: enemies-to-lovers, silver-fox hero, forced proximity 
A silver-fox general. A fiery, little ex-spy. A chase so enticing, he can't resist.

General Thorec is beginning to believe he will never find his mate. He'd thought that by the time silver appeared in his hair, he'd have a family and a woman who would be the sunshine in his monotonous day.
One day, when he finds a fiery, young female trespassing in his territory, he is stunned by her bold audacity.

Unfazed by his size and overbearing demands, she refuses to leave, and glares at him with a beautiful malice he enjoys too much to ignore.
Thorec throws her over his shoulder, intent on keeping her. But Ria proves more of a challenge than he anticipated.
The stormy harmony between them burns brighter than either of them are prepared for.

And though Ria may try to escape it, Thorec will not allow their profound connection to be denied.
CANDESCENT is a novella-length, fantasy dark romance that delves into the depths of dark, consuming love. This story is set in Zoey Ellis' Myth of Omega world but is a standalone story with a HEA. For fans of possessive Alpha anti-heroes, feisty Omega heroines, and fiery romances. This story includes romance of a dark nature. See author website for full warnings.

For more stories in this world, start with CRAVE TO CONQUER.
Read an excerpt

"Answer me. Do you have an Alpha?"

The female's gaze hardened. "That is not your concern."

A surge of violent annoyance crashed against Thorec's hard-fought-for control. "It is of great concern," he bellowed.

She flinched at his volume but didn't break eye contact.

"If you have an Alpha, he is fucking irresponsible," Thorec ground out, his annoyance continuing to rise. "You shouldn't be roaming the Lands unattended."

"Unattended?" Her mouth dropped open in disbelief. "I cannot be unattended because I'm an Omega?"

Thorec leaned forward, his blended annoyance and possessive desire bounding wildly in his chest. "Yes. Because that enticing scent of yours will make every Alpha who smells you want to fuck you raw. This cannot be news to you, little Ria. Surely you have some intelligence beneath all that beauty?"

To his surprise, a fetching pink glow spread over her honey-colored skin, and even as her eyes narrowed at him, he didn't miss the swallow in her throat.

Grabbing her jaw again, he checked her neck for a claiming bite, and a bluster of relief rose after discovering there was nothing signifying she had been mated. "You will tell me now if you are betrothed," he ordered, pulling her eyes back to his. "I want to know if you took part in any of the pairing events at the palace."

"No," she muttered. "I am not betrothed."

The agitation in him calmed immediately. Good.

"And I will not be held by an authority I don't recognize," she continued, her eyes shone brightly. "So if you intend to hold me, I intend to escape."

Thorec relished the thrill that shot through his body. This woman was tiny in comparison to him, and yet she had the nerve to challenge him. She had to be one of the most exciting finds the mountains had ever produced. Squeezing her jaw slightly, he leaned in, his voice a deep rumble. "Fucking try it."
CONTENT WARNING

Primal Possessive Romance Satisfaction Guarantee

This book will contain the following:

deeply obsessive, possessive, jealous behavior by the hero for the heroine
dark, uncomfortable, explicit, and potentially triggering scenes
a hero who is cruel, brutal, or despicable in some way
a hero who is also faithful and protective of the heroine
material that is for 18+ readers only
Delivery of your book

Ebook: Ebooks will be delivered immediately by email from a service called BookFunnel.

BookFunnel will deliver your download link so you can get your book on your preferred reading device:

- Kindle
- Apple device
- Kobo
- Nook
- Android device
- Your PC

Paperback: Paperbacks are printed to order, which takes 72 hours. Then they are shipped to the address you enter at checkout.
Return Policy

Please read the blurb, content/trigger warnings, and excerpts before purchasing.

Ebooks: Zoey Ellis Books has a 7-day return policy for e-books,.

We don't offer returns for: Sale e-bundles, paperbacks and hardbacks.

All returns are at the discretion of Zoey Ellis Books.
Share
View full details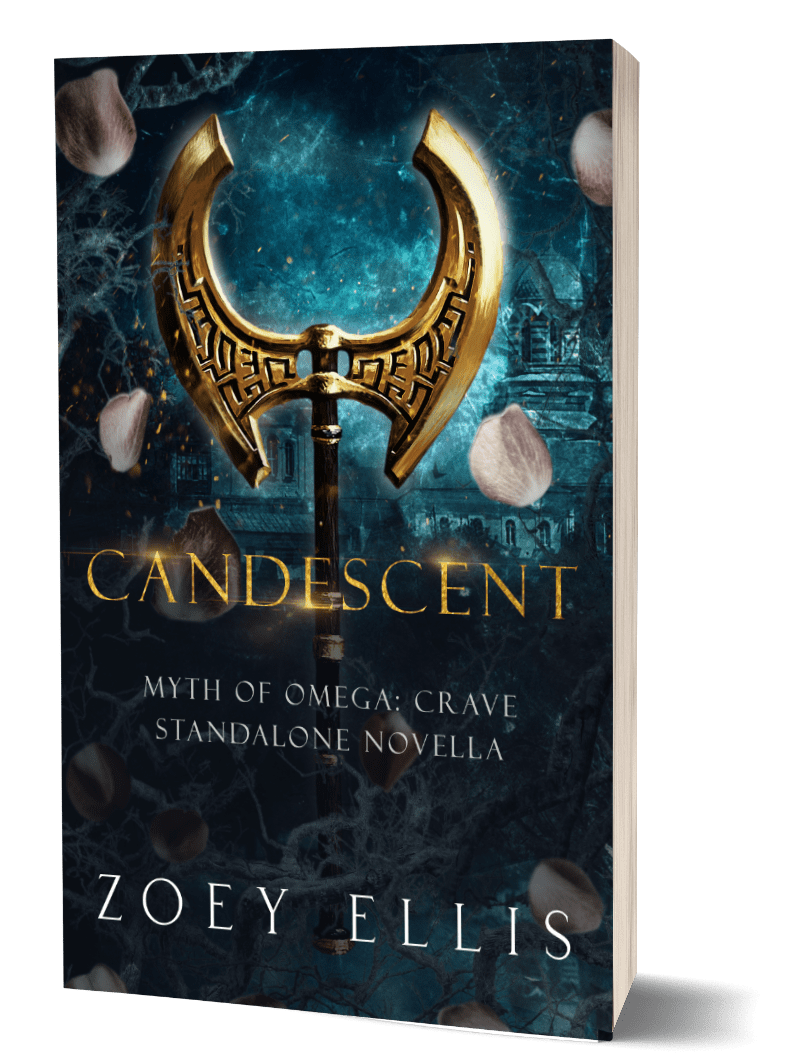 What readers are saying
★★★★★

Absolutely fantastic! A well written emotionally deep romance. The storyline is flawless, funny, witty, enjoyable, and very interesting. The story flows smoothly and moves along at a brisk pace with a few ups and downs and a mix of emotions on every page. The chemistry between them is intense and their love scenes are beautifully written and HOT!

- KB

★★★★★

Hot, Hot, Hot
Wowee, what a fantastic Omega read this is. Zoey Ellis sure is a fantastic author and you will certainly not be disappointed with reading this book. Thorec and Ria are a stormy, zinging pair for sure. You really cannot afford to miss this standalone book but be prepared it is hot, hot, hot. 10 out of 10 for this one

- Jan

★★★★★


This is an addictive Omegaverse novella that was absolutely incredible! I loved every word of it!
I loved Thorec and Ria's story, their chemistry was steamy, the book was well written, with an intriguing storyline, and compelling characters. A definite must read and one you need on your shelf.

- Lynn