Regular price
Sale price
$2.99
Unit price
per
Sale
Sold out
➤ Inside: enemies-to-lovers, captivity, hidden identity, fuck or die, mystery
An ambitious warrior. A rebel prisoner. A rut so intense, he can't give her up.
When warrior, Roclan, is finally offered the opportunity to become a general, he takes it seriously. After being rejected for advancement multiple times, he needs to prove that even though he is an alpha, he is capable of more responsibility.
All he has to do is investigate a murder and determine the punishment for the culprit being held.
But he wasn't expecting to encounter a female that would send him into a rut just by her scent. All signs point to this beautiful woman being his mate.

Unfortunately, she is also the prisoner.

Roclan quickly realizes he has to find a way to keep her alive, if only to explore his claim on her, but Nyan isn't interested in escaping her punishment.
Annoyed by her refusal to save herself, Roclan tries to uncover the mystery of her crime and peels away at her defences until she is forced to address the deep compulsion of their need for each other.
And the secrets she seems intent to hold.
COMPULSION is a novella-length, fantasy Omegaverse romance that delves into the depths of dark, consuming love. This story is set in Zoey Ellis' Myth of Omega world but is a standalone story with a HEA. For fans of possessive Alpha anti-heroes, feisty Omega heroines, and fiery romances. This story includes romance of a dark nature.
See author website for full warnings.
Read an excerpt

"You will not speak in such a manner," he thundered. "You will address me as General and only speak when you are spoken to!"

"I will be executed before sundown tomorrow," she snapped back. "So I will speak as I choose during my last hours of life."

"No execution has been arranged yet. Not until I have carried out an investigation."

She chuckled again, and this time it stirred all manner of filthy thoughts in Roclan's mind. "You have a corpse, and you have the culprit. There's no further investigation to be done." She paused. "Unless you need to prove yourself to your superiors?" Her head tilted and she snorted. "I'm afraid this case isn't much to grow your career on, baby General. I've already admitted I did it."

"Quiet!" Roclan roared, infuriated that she used the word "baby" to refer to anything about him. He tensed every muscle in his body, resisting the urge to storm over to her. Of the two of them, she was the tiny one, and she was imprisoned, but behaved as though she had power in this situation. Strangely, her taunts sparked both arousal and annoyance in him, but he forced both emotions down. "Your outrageous lack of respect has been noted," he said sharply.

The female shook her head, her shoulders also shaking as though she laughed quietly. "You are an Alpha."

Roclan snarled. "What the fuck is that supposed to mean?"

She leaned forward a little. "You prefer respect instead of truth."

"The existence of one does not cancel out the other. Are you saying you are only capable of one at a time?"

From the short pause before she answered, Roclan suspected she was surprised by his response. "Some people don't deserve both," she said tightly.

"Criminals do not get to determine that. You will be respectful, and you will speak truthfully. Is that clear?"
The woman's head ducked back down to knees as she mumbled, "If it weren't, would you care?"

Roclan growled, but turned to unlock the door. "You will be summoned shortly," he said to her. "You will have plenty of time to talk then, truth or not."

"I won't say more about the death than I've already said," she said sharply. "I refused to be questioned multiple times."

Roclan paused before turning back to her slowly, unable to help the deep and growly tone his voice embraced. "I believe you have been too well-treated here in Dorei, little captive."

At that, the prisoner fell silent.

"In Lox prisons in Ashens, the conditions aren't so pleasant, the guards aren't so mild-mannered, and interrogations are not kind. Here, you have the luxury of being solitary, but there, prisoners find ways to sneak into the cells of others at night."

She was silent for a long moment. "I guess… I'm lucky I am here, then," she replied, though the confidence had fallen from her voice.

"Yes," he growled back. "But you're not lucky *I* am here."
CONTENT WARNING

Primal Possessive Romance Satisfaction Guarantee

This book will contain the following:

deeply obsessive, possessive, jealous behavior by the hero for the heroine
dark, uncomfortable, explicit, and potentially triggering scenes
a hero who is cruel, brutal, or despicable in some way
a hero who is also faithful and protective of the heroine
material that is for 18+ readers only
Delivery of your book

Ebook: Ebooks will be delivered immediately by email from a service called BookFunnel.

BookFunnel will deliver your download link so you can get your book on your preferred reading device:

- Kindle
- Apple device
- Kobo
- Nook
- Android device
- Your PC

Paperback: Paperbacks are printed to order, which takes 72 hours. Then they are shipped to the address you enter at checkout.
Return Policy

Please read the blurb, content/trigger warnings, and excerpts before purchasing.

Ebooks: Zoey Ellis Books has a 7-day return policy for e-books,.

We don't offer returns for: Sale e-bundles, paperbacks and hardbacks.

All returns are at the discretion of Zoey Ellis Books.
Share
View full details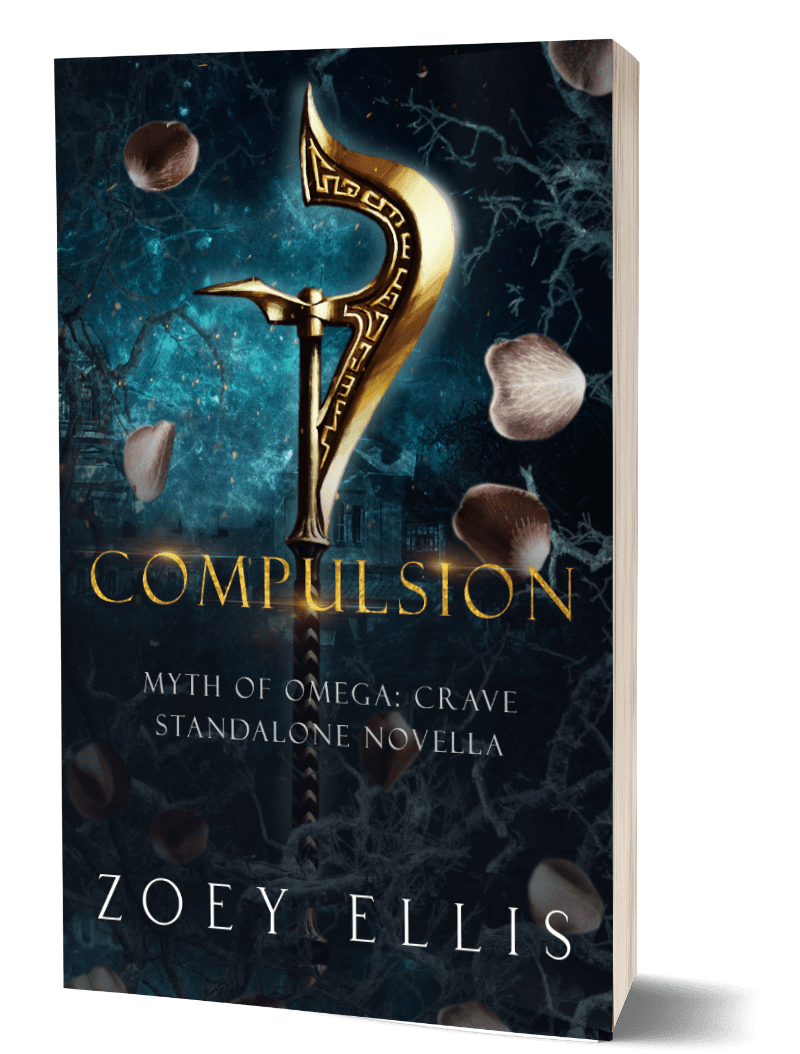 What readers are saying
★★★★★

I'm convinced that Zoey Ellis can't write a bad book. I was a little concerned that the character development or story would be short changed in this novella length story but no such thing. This was a full blown story of dark hunger with an unrelenting Alpha and an Omega who won't go down easily.

- MyOhMy

★★★★★

Another Home run!
Wow, just... wow. It's been a long time since I've enjoyed every single work of an author, and I'm glad to say that Zoey takes the cake. I'm such a sucker for anything crime related and had a blast reading this book!

- Maria

★★★★★


A romance so juicy that you won't be able to stop reading until it's over.

- Natalia